Find out which BI platform fits your needs in 1 minute

At CRMT, we created a simulator, where you can score each Critical Capability by importance from 0 to 5. All you need to do is fill out a survey, and we will send you back the results of the top 3 BI platforms that suit you best.
---
In May 2022, Gartner published its annual Critical Capabilities Report for BI platforms and MicroStrategy is number 1 for Enterprise Analytics. This report comprises 12 capabilities within 4 different categories.
MicroStrategy is a leader in the Enterprise Analytics category for the 3rd year in a row. Thus, their clear mission to make every enterprise a more Intelligent Enterprise™ is becoming a reality. MicroStrategy has been top-rated in this category since 2020. This is confirmed by leading analysts, such as Gartner, Forrester, Ventana, and Dresner.
Let's talk about the Enterprise Analytics category. It enables an enterprise to distribute analytics content to a large community of analytic consumers. The four highest-weighted critical capabilities in this category, where MicroStrategy scored best:
1. Governance
2. Catalog
3. Security
4. Reporting
Don't take our word for it, here's what Gartner says about MicroStrategy
With a focus on reporting, security, governance, and catalogs, enterprise analytics is MicroStrategy's strongest use case. MicroStrategy scored well above the market average on all four of these enterprise analytics capabilities. In particular, for reporting, MicroStrategy is very strong at every sub-criterion, especially parameterized reporting. For governance, MicroStrategy is particularly strong at telemetry, usage analytics, and facilitating the promotion of certified content. For catalogs, MicroStrategy enables the automated inventory of analytic content and enables users to easily search the catalog to find selected content, such as reports or metrics. And finally, for security, MicroStrategy offers best-in-class auditing, authentication, and authorization.
MicroStrategy scored well above the market average on all 4 enterprise analytics capabilities: Governance, Catalog, Reporting, and Security. In particular, for Reporting, MSTR is very strong at every subcriterion.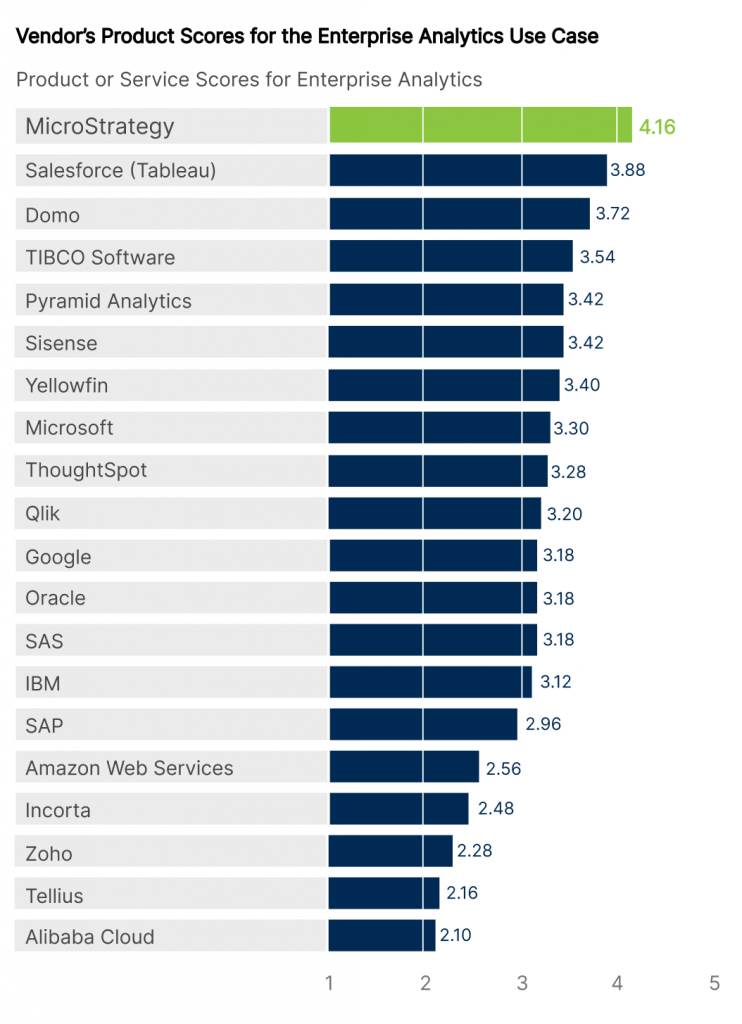 In search of a perfect BI platform?
How it works
Narrow down a selection of BI platforms based on your own criteria with our simulator. Determine for yourself which features are most important for your company and weigh them accordingly. Write any number from 0 to 5:
0 – not relevant (ignore)
1 – not important
5 – most important

What's next?
At CRMT, we can explain in depth the differences between the top 3 results that you get. Our sales team will advise you on the most suitable solution, considering your current infrastructure and architecture. We can work with MicroStrategy, Microsoft Power BI, Qlik, or Oracle OBIEE. We are a trusted partner of more than 100 companies, so let's implement the solution that suits you best!