Independent analyst and research companies are preparing yearly reports on different segments of IT technology and therefore also for Business Intelligence products.

Two of them published in the last half of the year are from Gartner: Magic Quadrant for Analytics and Business Intelligence Platforms 2018 and Forrester Research: Enterprise BI Platforms With Majority On-Premises Deployments, Q3 2017.

Both of them put MicroStrategy BI platform on top of all the vendors, both for similar reasons described later on. MicroStrategy, the leading BI platform for decades, is now finally gaining recognition in the above-mentioned reports.
Let's go step by step.
Gartner MQ 2018: Analytics and BI Platforms
Gartner MQ report is including many found out some very interesting things about MicroStrategy in the latest MQ (2018):
MicroStrategy is best for large-scale reporting and governed data discovery deployments for large and complex datasets than most other offerings in 2018 MQ.
MicroStrategy is a platform with strong integration. It has the highest scores among any vendor in MQ, both overall and for all the evaluated use cases.
Furthermore excellent to outstanding scores are received for:

ease of use, visual appeal and platform workflow integration
as an early innovator in Mobile BI, some of the most comprehensive (including transactional),
highly rated and widely adopted capabilities
BI administration, architecture, and security;
data source connectivity;
scalability and model complexity;
metadata management
MicroStrategy is the only platform that combines enterprise-grade analytics with modern self-service capabilities, which is the great advantage over all other vendors and enables easy BI and reporting consolidation.
Forrester Research 2017
Similar is valid also for Forrester Research which positioned MicroStrategy on top of all BI platforms. They claim that MicroStrategy in contrast to others, which purely rely on a DBMS power for query processing and optimization assumes that DBMSes are usually not so well-tuned.
MicroStrategy with its highly scalable ROLAP is optimizing queries well beyond DBMS capabilities. MicroStrategy is able to perform complex heterogeneous joins between multiple DBMSes. Furthermore supports a drill-anywhere capability, which reduces the number of siloed reports and dashboards.
"Clicks to answer" test of Forrester Research scored MicroStrategy as one of the best BI platforms as well.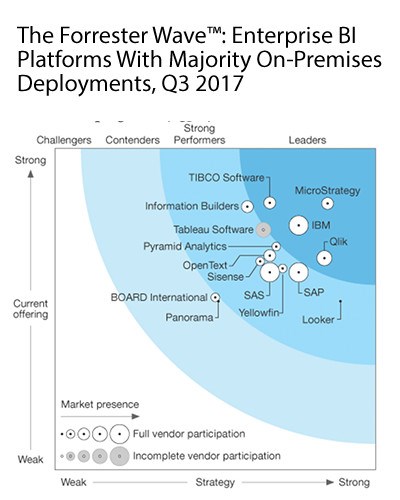 Conclusion
If you would like to consolidate BI tools or reporting MicroStrategy is probably the only BI platform that can handle it right now.
Previous & Next
MicroStrategy World 2017, 18 – 20 April 2017, Washington
Join us in the world of analytics MicroStrategy World, from 18th – 20th April 2017 at the Gaylord National Resort and Convention Center, Washington ...
read more
Three Most Exciting Changes In MicroStrategy 2019
MicroStrategy announced exciting changes in MicroStrategy 2019. The new release of its business intelligence platform was annouced on its World conference, held...
read more